Lectra Tech LLC provides commercial electrical services for businesses throughout the region. From lighting issues to general electrical repair, new electrical installations to new construction electrical services, our breadth of abilities is at your service, no matter the job. Our electricians in Clovis, Curry County, St Vrain, Texico, and Portales, NM have a superior reputation for their response time, as well as their professional conduct. Count on us to show up on-time and make sure the work is completely finished before we leave.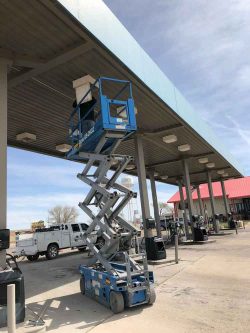 New Construction Services
For new commercial developments, we're the company to call for construction electrical services. We deliver top quality workmanship and assist developers and builders in the design and planning phases, ensuring the electrical system fits the building.
From buildouts to brand-new construction from the ground up, leave the electrical system and lighting layouts to us.
All Types of Commercial Facilities
Our scope of experience includes providing electrical repair work for businesses of all types. We frequently work with schools, churches and other organizations, as well as commercial office spaces and similar businesses. We're also veteran retail electricians in Clovis, NM, providing services for retail establishments of all sizes.
Retail
Restaurants
Schools
Colleges
Churches
Repairs, Upgrades and Installations
Our primary area of focus is commercial lighting, and we offer an array of services designed to keep the lights on in your commercial space! More than that, we'll make sure you get the most out of your investment in lighting Whether you need someone to troubleshoot a short circuit or are interested in cost-efficient LED upgrades, count on our commercial electrical installation services to help.
LED upgrades
Maintenance contracts
Lighting maintenance routes
Lighting repair
Underground repairs
Beyond lighting, we're available for repairs, upgrades and installations across the total scope of your electrical system. You name it, we do it!
Greyhound Arena
Western Equipment
Need Commercial Electrical Installation Services?
Leave your commercial electrical services to a seasoned service provider! Lectra Tech LLC will provide you with the quality results you expect, regardless of the scope of work involved.
Contact our expert team today at 575-309-3359 to discuss our industrial, residential, and commercial electrical installation services.